Wenn die Musik nicht gewesen wäre... Wahrscheinlich wären Daniel, Sarah und Raphael hoffnungslos irgendwo in der verwirrend digitalen Welt von heute untergegangen.

Aber zum Glück ist das nicht passiert. Gitarren und Sticks werden immer noch aus Holz geschnitzt und anständige Verstärker kommen nach wie vor nicht ohne analoge Bauteile aus.
So werden die Verstärker bei despite also munter aufgedreht bis die Röhren glühen und es warm ums Herz wird. Und manchmal auch etwas mehr...
Daniel
: vocals / guitars
Sarah
: drums
Raphael
: bass
daniel...
...hat bei jeder Probe ein neues Effektgerät "nur zum ausprobieren"
...hat eine unzählbar unendliche Anzahl an Gitarren, aber spielt immer dieselbe
...macht in jeder Probe genau die Saite kaputt, die an allen Ersatzgitarren auch bereits fehlt
sarah...
...hat in ihrem "Minimal-Setup" mehr Pfannen und Deckel als sich Jamie Oliver in seinen kühnsten Träumen vorstellen kann
...kann gleichzeitig mit einer Hand Bier trinken, mit einer Hand SMS schreiben und mindestens doppelt so viele Schläge spielen wie Dani für angemessen hält
raphael...
...hat auch einige Effektgeräte, die ihm alle von Dani aufgeschwatzt wurden
...muss immer Dani und Sarah bremsen, damit nicht jeder Song die Schallmauer knackt
...kann als einziger den Luftentfeuchter im Proberaum bedienen
Discographie
patience (2010)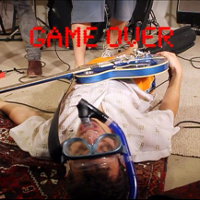 Download ZIP
Recorded, mastered, mixed and released in our basement and living room.
Videoclip directed by Moritz Kirschmann & Daniele Oberti.
I'll scrawl your name on every wall (2008)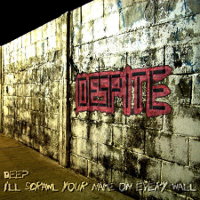 Download ZIP
Recorded, mastered, mixed and released in Zürich by Jacques & Christophe.
Cover based on a photograph by Mario Sepülveda.
demo (2007)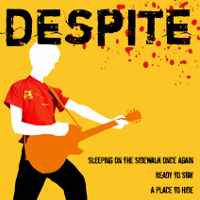 Download ZIP
Recorded live by Icky Undressed.

This work is licensed under a Creative Commons Attribution-Noncommercial-No Derivative Works 3.0 License.
Fotos
Gigs
coming up
Über Konzertanfragen freut sich unser booking (und wir natürlich auch!)
past gigs
2013
2012
2011
2010
2009
09. November 2009
live @ Radio Radius, Zürich, Schweiz, Welt, Interweb
2008
2007
15. Dezember 2007
Rock Highway '07, Alte Kaserne, Zürich
27. November 2007
KiFF Foyer, Aarau
25. November 2007
Battle of the Bands Halbfinale, Abart, Zürich
30. Oktober 2007 (akustisch)
Bling, Zürich
12. September 2007
Battle of the Bands Vorrunde, Abart, Zürich
13. Juli 2007,
Villa Palatina, Davos